Online Public Administration Course For HCS Mains Exam
Online Public Administration Course For HCS Mains Exam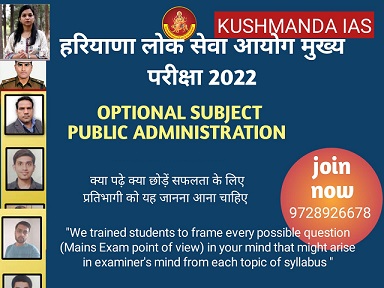 Salient Features1. It is available in Bilingual Language.2. Topic-wise Concepts and Examples.
3. Easy and comprehensible language to understand.
4. Each video can be viewed unlimited times.
5. Chapter-wise Discussion for better knowledge.
Topics Covered:
Product Details
1.   Online Interactive Course will be the one-stop solution for all your troubles related to your preparation for all competitive exams.
2.    We will be providing you with dedicated live classes in this course.
3.  Aspirants will get in-depth analysis of every subject topic through video lecture.
4.   Online Guru will enable you to study for your exams sitting at your home and you can watch these videos anywhere and anytime.
5.   It will be you're Personal Study Room.
Fee: 27000/-(Online/Offline) (Rs 35000)
"Making good decisions is a crucial skill at every level. You should not waste this opportunity for just a sake of only appearing the examination. Give this attempt with the full fire. So join us immediately."
KUSHMANDA IAS HCS ACADEMY
SCO 301 & 302, TDI TOWN CENTER,  NEAR GT ROAD TOLL PLAZA, TDI CITY
PANIPAT, HARYANA
9728926678 , 8607570992
www.kushmanda.com