HCS MAIN ENGLISH AND ENGLISH ESSAY TEST SERIES(Detailed Discussion after each Sectional Test)
HCS MAIN ENGLISH AND ENGLISH ESSAY TEST SERIES(Detailed Discussion after each Sectional Test)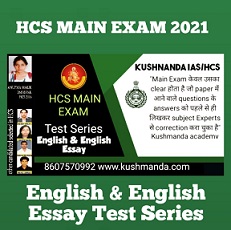 HCS MAIN ENGLISH AND ENGLISH ESSAY TEST SERIES
HCS Main Exam English & English Essay Paper Test Series 2021
Programme Highlights
•             Total 15 Tests including
•             4 Sectional Tests
•             11 Mock Tests
•             Detailed Discussion after each Sectional Test.
•             Discussion will be focused on conceptual clarity & Answer Writing.
•             Answer Hints including Model Approach.
•             Answer sheets will be evaluated by the experts only.
•             One on One discussion with faculty after copy evaluation.
•             Note: Test discussion will be conducted only for Sectional Tests.
TEST1. Essays
TEST2. Precis
TEST3. Comprehension
TEST4. Grammer
TEST5. Full Test
TEST6. Full Test
TEST 7  Full Test
TEST8. Full Test
TEST9. Full Test
TEST10. Full Test
TEST11. Full Test
TEST12. Full Test
TEST13. Full Test
TEST14. Full Test
TEST15. Full Test
1. Give all tests by preparing well.
2. Revise each test on the same day.
3. Revise all synopses at least 2-3 times before Mains.
4. Give all tests in exam like situation.
5. There are 15 Tests .
6. Nature of Questions: Based on HPSC Pattern
7. Synopsis will be provided for all tests .
8. Flexible timings for Classroom & Online Students (Starts,
PERSONALISED SCHEDULING)
9. Copy correction strictly by faculty only