Expected ESSAYS
Expected Essays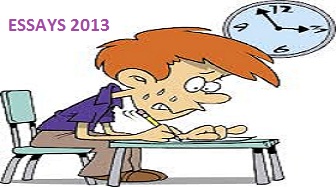 2013  for Punjab PCS Main EXAM/HCS MAIN EXAM
1. JUDICIAL ACCOUNTABILITY
2. CAPITAL PUNISHMENT FOR RAPE
3. ILLITERACY AND VOTING RIGHTS
4. INDIA'S RESERVATION POLICY: AFTER SIXTY YEARS
5. INDIA'S SPACE PROGRAMME
6.INDIA IS A RICH COUNTRY INHABITED BY THE POORS- A PARADOX
7. HONOUR KILLING- A STIGMA ON SOCIETY
8. CORRUPTION IN PUBLIC LIFE
9. THE RIGHT TO EDUCATION
10. MEDIA AND CENSORSHIP
ESSAY WRITING TEST SERIES:
You will get:
• Mock Test Papers ( 10 tests, expected essays with model format)
• Study material  (Exam oriented relevant Essays )
 FEE: Rs 3000/- Fee has to be paid by DD/Cheque for the full amount favoring KUSHMANDA EDUCATION SERVICES PVT LTD  payable at PANIPAT  . Trust, quality and reliability – the bywords for KUSHMANDA EDUCATION SERVICES PVT LTD – will remain our guiding force for the Test Series – both Preliminary as well as Main Exam. We also provide model answers for all essay papers.
How to request:
For availing any of the above, students need to download the respective application form from
After filling the form, attach the DD/Cheque and send it to us at the address mentioned below:
KUSHMANDA EDUCATION SERVICES PVT LTD
B-892, SUSHANT CITY, ANSAL
PANIPAT
HARYANA
Helpline: 08607570992, 09728926678
We would take around 5 days to deliver the material (or 1st installment, if applicable) in India from the day we receive your DD/cheque.
FOR ANY POSTAL MATERIAL RELATED QUERY OR TO KNOW THE STATUS OF MATERIAL REQUESTED, KINDLY SEND EMAIL US kushmandaeducation@gmail.com
Or call us 08607570992,09728926678