HTET PGT Study Material & Imp Questions(Based On Latest Pattern)
HTET PGT Study Material & Imp Questions(Based On Latest Pattern)
"Exams are fast approaching. Work Smart:You have limited time and energy."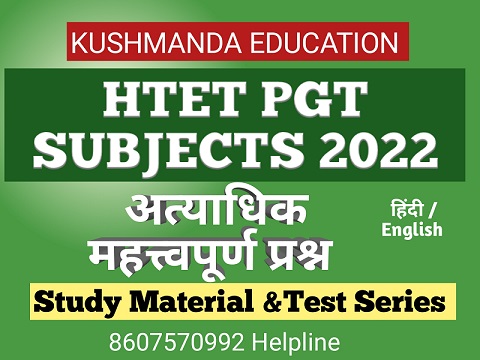 What you will get:
Complete Study Material
Scoring  potential test papers ( expected questions)
Answers of every test paper (Most Realistic Practice )
Expert Support (through email kushmandaeducation@gmail.com)
English/Hindi
FEE : Rs 6000/- (per subject)
"Making good decisions is a crucial skill at every level. You should not waste this opportunity for just a sake of only appearing the examination. Give this attempt with the full fire. So join us immediately."
Subject Specific avaialable:
i. Hindi
ii. English
iii. Urdu, Punjabi
iv. History
v. Geography
vi. Home Science
vii. Sociology
viii. Psychology
ix. Physical Education
x. Commerce
xi. Physics
xii. Chemistry
xiii. Political Science
xiv. Economics
xv. Music
xvi. Computer Science
xvii. Biology
xviii. Mathematics
xix. Fine Arts
SELF STUDY: The Test Series has been conceptualized and designed as a self‐study programme. Its aim is to fit the self‐study schedule of the aspirants who have completed their Exam preparation.
Fee has to be paid-by Cash on Delivery or Credit Card or NET BANKING(IMPS/NEFT) or  by DD/Cheque for the full amount favoring KUSHMANDA EDUCATION SERVICES PVT LTD  payable at PANIPAT . "Trust, quality and reliability , the bywords for KUSHMANDA EDUCATION SERVICES PVT LTD,  will remain our guiding force for   Exam."
 "Making good decisions is a crucial skill at every level. You should not waste this opportunity for just a sake of only appearing the examination. Give this attempt with the full fire. So join us immediately."
Kushmanda IAS HCS Academy
(A Unit of Kushmanda Education Services Pvt ltd)
100,BLOCK C, TDI CITY,PANIPAT
Helpline:8607570992, 9728926678