HPSC HCS Course 2022-23
HPSC HCS Course 2022-23
"We trained students to frame every possible question(Exam point of view) in your mind that might arise in examiner's mind from each topic of syllabus"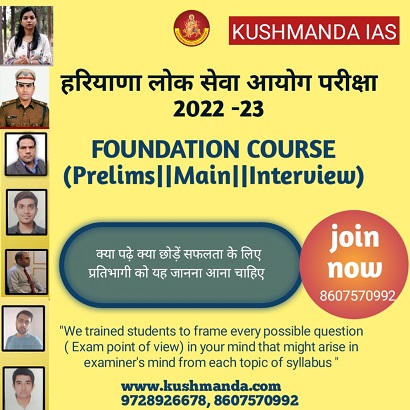 HCS Online Offline Course is a full-fledged course for HPSC 2022-23. It includes guidance for all three stages of the coveted examination – Prelims, Mains and Interview.
The main objective of this course is to provide personalised learning by empowering serious aspirants to establish strong foundations of basics, build on it by inculcating analytical skills, interact with and be mentored by trusted faculty at every step and adapt their preparation to the dynamic nature of this examination.
Real-time interactivity with teachers contributes in qualitative learning with instant doubt clearance.
Explanation of Basic Concepts by faculty
Taking tests once every week and fortnight becomes a part of your routine preparing you to perform well in every test.
 It includes guidance and classroom training for all three stages of the HPSC Haryana civil services examination – Prelims, Mains and Interview.
HCS परीक्षा के गतिशील पैटर्न के कारण, परीक्षा की बदलती ज़रूरतों के अनुसार अपनी रणनीति का पुनरवलोकन करना आवश्यक हो गया है। हमने छात्रों के सफलतापूर्वक मार्गदर्शन और परामर्श के वृहद् अनुभव के साथ छात्रों को परीक्षा के विभिन्न पहलुओं को समझने के लिये उपयुक्त रणनीति उपलब्ध कराने हेतु विशिष्ट शैक्षणिक संरचना तैयार की है।
सिविल सेवक बनना देश के अधिकांश युवाओं का सपना होता है। इस सपने को साकार करने के लिये हर साल लाखों अभ्यर्थी सिविल सेवा परीक्षा में सम्मिलित होते हैं, जिनमें से कुछ को ही इन प्रतिष्ठित पदों तक पहुँचने का सौभाग्य प्राप्त होता है।
Kushmanda a name synonymous with excellent and reliable civil services training is the one-stop destination for all aspirants looking for the best guidance with the only intention of seeing their students succeed and celebrate.
Fresher to expert: Our courses are designed to help candidate even without a prior background in the subject.
Goal oriented teaching: Detailed-analytical study of the subject with respect to HPSC syllabus .
Assignments and Practice Tests: Periodic assignments and tests will be given to check concept clarity and do revision of the topics covered.
Duration: 10-12 months
offline classes will be conducted for 2-3 hours, 5 days in a week .
Comprehensive- updated printed study material
Class Notes will be provided on a regular basis.
Your teachers will always be available for any doubts and discussions even after the completion of your course.
We encourage all students to stay connected with us and approach us for any assistance they require – doubts & discussion, tests, evaluation & feedback, guidance, etc.
Fee: Rs 1,30,000/-  75000/-
HELPLINE: 8607570992,  9728926678
We have an edge over others in Distance Learning Programs through our unique teaching and learning techniques.
 "Making good decisions is a crucial skill at every level. You should not waste this opportunity for just a sake of only appearing the examination. Give this attempt with the full fire. So join us immediately."
How to send request: Only one single call on our helpline number 08607570992,09728926678
or Mail us kushmandaeducation@gmail.com
HCS परीक्षा के गतिशील पैटर्न के कारण, परीक्षा की बदलती ज़रूरतों के अनुसार अपनी रणनीति का पुनरवलोकन करना आवश्यक हो गया है। हमने छात्रों के सफलतापूर्वक मार्गदर्शन और परामर्श के वृहद् अनुभव के साथ छात्रों को परीक्षा के विभिन्न पहलुओं को समझने के लिये उपयुक्त रणनीति उपलब्ध कराने हेतु विशिष्ट शैक्षणिक संरचना तैयार की है। HCS MAIN टेस्ट सीरीज़ के अंतर्गत रणनीतिक रूप से वृहद कवरेज़ के साथ पाठ्यक्रम को तैयार किया गया है, ताकि परीक्षा में विद्यार्थियों को वैज्ञानिक रणनीति के साथ अपनी तैयारी को पूर्ण रूप देने में सहायता मिल सकें। समयावधि एवं संरचना टेस्ट सीरीज़ – इसमें कुल 200 टेस्ट्स हैं। प्रमुख विशेषताएँ: सिविल सेवा परीक्षा के संपूर्ण पाठ्यक्रम का मानक प्रश्नों के माध्यम से व्यापक कवरेज़। तथ्यात्मक तथा अवधारणात्मक- दोनों प्रकार के प्रश्नों की समानुपातिक उपस्थिति। बेहतर समय-प्रबंधन तथा परीक्षा के मानसिक दबाव पर नियंत्रण के लिये वास्तविक परीक्षा हॉल जैसा वातावरण। अभ्यर्थियों को प्रदर्शन विश्लेषण, खंडवार विश्लेषण, कठिनता के स्तर का विश्लेषण, अखिल भारतीय रैंक, टॉपर्स से तुलना, एकीकृत स्कोर कार्ड, प्रश्नों की प्रकृति एवं कठिनता के आधार पर मॉक टेस्ट पेपर का विश्लेषण आदि सुविधाएँ। विद्यार्थियों को विषयों के विशेषज्ञों के साथ व्यक्तिगत चर्चा एवं महत्त्वपूर्ण अध्ययन क्षेत्रों के संबंध में निरंतर मार्गदर्शन। विषयों की सारगर्भित एवं गहन समझ तथा परीक्षा हेतु महत्त्वपूर्ण विषयों की पहचान हेतु मॉक प्रश्नों की विस्तृत व्याख्या। माध्यम : हिंदी और अंग्रेजी दोनों माध्यमों में उपलब्ध। दिशा-निर्देशन: विद्यार्थियों को विषयों के विशेषज्ञों के साथ व्यक्तिगत चर्चा उपलब्ध कराया जाएगा। उनके लिये प्रश्नपत्र विश्लेषण, एप्रोच, महत्त्वपूर्ण अध्ययन क्षेत्र तथा अध्ययन के लिये रणनीति किस प्रकार तैयार करें आदि पर निरंतर मार्गदर्शन की भी व्यवस्था की जाएगी। विस्तृत व्याख्याओं की हार्ड कॉपी उपलब्ध कराई जाएगी, जिसमें मॉक प्रश्नों में शामिल किये गए महत्त्वपूर्ण क्षेत्रों एवं विषयों को कवर किया जाएगा। यह विद्यार्थियों को पर्याप्त स्पष्टता के साथ अति महत्त्वपूर्ण तथा परीक्षा की दृष्टि से प्रासंगिक विषयों को कवर करने में सहायक होगा।
KUSHMANDA IAS HCS ACADEMY
100 BLOCK C TDI CITY PANIPAT