HCS TEST SERIES 20 FULL TEST
HCS TEST SERIES 20 FULL TEST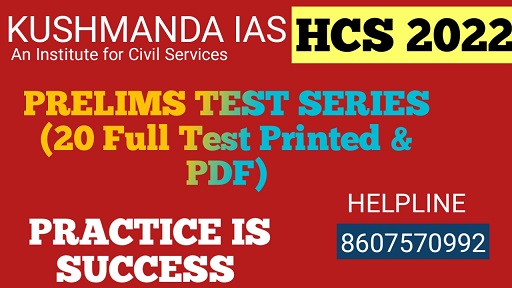 "We trained students to frame every possible question (Exam point of view) in your mind that might arise in examiner's mind from each topic of syllabus."
परीक्षा के गतिशील पैटर्न के कारण, परीक्षा की बदलती ज़रूरतों के अनुसार अपनी रणनीति का पुनरवलोकन करना आवश्यक हो गया है। हमने छात्रों के सफलतापूर्वक मार्गदर्शन और परामर्श के वृहद् अनुभव के साथ छात्रों को परीक्षा के विभिन्न पहलुओं को समझने के लिये उपयुक्त रणनीति उपलब्ध कराने हेतु विशिष्ट शैक्षणिक संरचना तैयार की है। इस सपने को साकार करने के लिये हर साल लाखों अभ्यर्थी परीक्षा में सम्मिलित होते हैं, जिनमें से कुछ को ही इन प्रतिष्ठित पदों तक पहुँचने का सौभाग्य प्राप्त होता है।
What you will get:
#Online Offline Test Series (Most Imp Questions) (क्या पढ़ना है क्या छोड़ना है सफलता के लिए प्रतिभागी को यह जाननाआना चाहिए )
 ( Updated & Based on Latest Pattern)  helpline:9728926678, 8607570992 www.kushmanda,com
>The main objective of this course is to provide personalized learning by empowering serious aspirants to establish strong foundations of basics, achieve conceptual clarity, build on it by inculcating analytical skills, interact with and be mentored by trusted faculty at every step and adapt their preparation to the dynamic nature of this examination. >We have ensured that Online students get ALL the facilities that are being offered in Offline mode, so as to make your preparation holistic and hassle free even at the comfort of your homes/offices with our Kushmanda Classes Portal. >Kushmanda Classes comprehensively covers the Entire Syllabus in the timetable.
KUSHMANDA IAS HCS ACADEMY 100 ,BLOCK -C, TDI CITY PANIPAT, HARYANA   We have an edge over others in Distance Learning Programs through our unique teaching and learning technique