HCS GS MAIN CLASSES 2023 Everthing For GS MAIN in 6 MONTHS
HCS GS MAIN CLASSES 2023 Everthing For GS MAIN in 6 MONTHS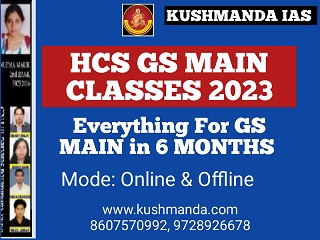 GS Mains Classes 2023 (Basic to Advance)
 Mode : Online & Offline
EVERYTHING for GS MAINS in 6 MONTHS
COMPLETE COVERAGE of GS PAPER 1,2,3,4 & ESSAY
ANSWER WRITING + TEST SERIES with PERSONALISED MENTORING
HIGHLIGHTS
HPSC  requires a well-crafted strategized effort to crack in which "One size fits all" approach towards subjects is of little benefit. The gap between prelims of preceding year and the next, always presents a grey area where the students remain confused about the focus. In our sustained efforts to stand by our students in their journey to success, we have designed a program which is crisp yet substantive to cover entire syllabus for Mains 2023 (Basics to advance) in a span of 6 months, leaving ample time to focus on next Prelims.
PROGRAMME INCLUDES:
Classes
Complete coverage of Syllabus of GS Mains 2023
Classes of GS Mains Paper 1, 2, 3 & 4 and Essay
Descriptive Essay Writing Class cum Tests
Mains Current Affairs Updation Class after Prelims
3 Layer of Test
Topic wise Class Tests
Answer Writing Sessions for each Topics
GS Mains Tests Series includes 20 Test
Study Material
Comprehensive Study Material for GS Mains Paper 1, 2, 3, 4 + Current Affairs
GS Mains Test Series
As mentioned earlier we will take regular tests. It will help you to monitor your progress and also helps us to know whether someone requires additional support or not. Our GS Mains Test Series is part of this program.
20 tests, including 12 sectional and 8 mock tests.
There are 12 sectional tests. Idea is to cover the entire subject in its length and breadth.
12 Sectional Tests to judge Candidate's Concepts & Inter-disicipinary Approach
8 Mock tests will be conducted on the pattern of UPSC.
Modular Answers -  Concepts, Model Answer & Supplementary Notes
Detailed discussion next day of test.
Value Added Test Discussions along with Approach to Answer Writing
Answer sheets will be evaluated by the experts only.
Insightful Evaluation & Feedback
Evaluation will be done in two week's time.
Ethics Test Series
Total 24 Tests: 17 Topical Tests, 4 Sectional Tests & 3 Full Mock Tests
More than 30 Case Studies covered
Detailed Discussion after Tests
One – to – one discussion with Faculty.
Essay Test Series
Total 30 Sessions: 10 Approach Classes, 10 Tests & 10 Discussions.
Model Essay for every Test
One on One Discussion after Copy Evaluation with Manoj K. Jha
Practice Worksheets
COURSE FEE
Online Fee
(Including GST) 60,000/-
Offline Fee
(Including GST) 65,000/-