HCS 2023: GS Mains Advance 2023
HCS 2023: GS Mains Advance 2023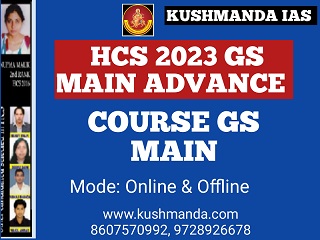 HCS2023: GS Mains Advance 2023
100 DAYS ADVANCE COURSE FOR GS MAINS PAPER 1, 2, 3, 4 & Essay 
Mode : Online & Offline
In the present scenario, GS mains papers demand not only analytical ability and visualisation but placing of the issues in correct context along with the right perspective. In our sustained efforts to stand by our students in their journey towards success, we have designed a program which covers Mains Contemporary Issues with static relevance in 100 days.
Batch Starts: 14th October
Timing : 9:00 AM to 1:00 PM
HIGHLIGHTS
Coverage of Mains Contemporary Issues  of GS Paper 3, 2 & 1 with Static Relevance
Practice based Classes for Ethics & Case Studies
Essay Writing Classes with special emphasis on Philosophical Essay
Concept Mapping through Answer Writing for Every topics
Test Series including: 25 Tests (12 Sectional + 5 Essay + 8 Mock)
Comprehensive & Crisp Study Material to cover 2.5 years Contemporary Issues
150 Hrs. Mains updation Classes after Prelims
Programme Approach
Our Outcome based pedagogy helps develop Critical Thinking of students, the niche skill required to excel in Mains.
Concept mapping not only helps understand the concept but also helps in aligning the notes, information & enrichment to make you a "smart" candidate.
Learning without validation & empiricism is like shooting in the dark. Active learning methodizes your preparation in empirical terms to help you assess & course correct for better.
Learn- Practice- improve-succeed is our mantra. Revision of concepts, answer writing practice forms the steps of your ladder to success.
Programme highlights
Classes will cover the key concepts from the syllabus and complete analytical coverage of Contemporary Issues to prepare aspirants for Mains 2023.
Answer writing sessions have been made an integrated feature for every topic to improve articulation and analysis with constant corrective measures to bring out "peak performance".
To clear all your doubts throughout your UPSC CSE journey, we will be conducting regular mentorship sessions with our expert faculties and skilled mentors.]
We will provide you with highly effective notes for quick revision and good answer writing.
After prelims, 150+ hours of Contemporary issues classes and compact notes  will be provided as part of mains updation.
COURSE FEE
₹ 40000
Online Fee 
₹ 45000
Offline Fee