HCS Test Series 2021 (updated & based on latest pattern)
HCS Test Series 2021 (updated & based on latest pattern)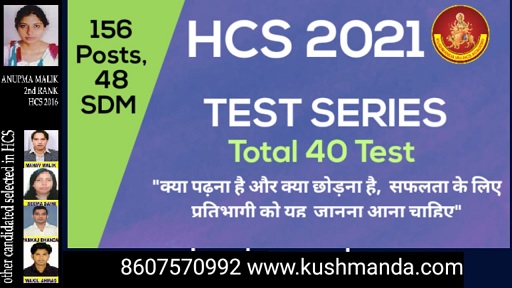 HPSC Preliminary Exam 2021 (TOTAL 40 TEST)  
GS PAPER I & CSAT PAPER II (30 GS TEST +10 CSAT)
 ( Most Expected & Probable Questions Test Series)
 1.GOAL: "100 Question" of HPSC Preliminary Exam 2021
 2.REAL SYLLABUS VS APPARENT SYLLABUS
The Test Series will help the candidates in framing out the real syllabus of the HPSC exam.
 3.STANDARD:
"The difficulty level of the test questions will be exactly that of HPSC. It will not be below that. It will not be way above that either, just to impress the candidates. Focus will not be just on testing the factual clarity. The logical standard of the questions will be high, which is the actual pattern of HPSC."
4.Once an exam is over, aspirants get detailed solutions and all-Haryana ranks.
Fee: 6000/-(Online/Offline) 
PROGRAMME DURATION: Tests can be taken anytime till Prelim Exam, after which the programme subscription will expire.
 SELF STUDY: The Test Series has been conceptualized and designed as a self‐study programme. Its aim is to fit the self‐study schedule of the aspirants who have completed their preparation.
 FLEXIBILITY: Personalised Scheduling / All tests can be taken ONLINE from anywhere.
 Cycle 1 :
 The questions in this cycle will test the understanding of
the candidates on different themes of the exam .
Test 1 Polity (1st Test Free)
Test 2 Economy
Test 3 Everyday Science/General Science
Test 4 Environment
Test 5 Haryana GK & Current
Test 6 History/Culture
Test 7 Geography
Test 8 Current Affairs (International & National)
Test 9 Static GK
Test 10 Full Test
                                   Cycle 2 :
 But with a fresh set of test questions. Once
the candidates have gone through the First
Cycle, they will be in a position to easily identify
their weak areas for which they can prepare
and then they will again be given a chance in
the Second Cycle to test their strength.
Test 1 Polity
Test 2 Economy
Test 3 Everyday Science/General Science
Test 4 Environment
Test 5 Haryana
Test 6 History
Test 7 Geography
Test 8 Current Affairs (International & National)
Test 9 Static GK
Test 10 Full Test
                  Cycle  3 :
Test 1 Full Length Mock Test
Test 2 Full Length Mock Test
Test 3 Full Length Mock Test
Test 4 Full Length Mock Test
Test 5 Full Length Mock Test
Test 6 Full Length Mock Test
Test 7 Full Length Mock Test
Test 8 Full Length Mock Test
Test 9 Full Length Mock Test
Test 10 Full Length Mock Test
                  CSAT TEST  :
 Test 1 Full Length Mock Test
Test 2 Full Length Mock Test
Test 3 Full Length Mock Test
Test 4 Full Length Mock Test
Test 5 Full Length Mock Test
Test 6 Full Length Mock Test
Test 7 Full Length Mock Test
Test 8 Full Length Mock Test
Test 9 Full Length Mock Test
Test 10 Full Length Mock Test