HCS Mains All 4 Papers Offline Mock Abhyas (Total 5 Mock Abhyas)
HCS Mains All 4 Papers Offline Mock Abhyas (Total 5 Mock Abhyas)
"Exams are fast approaching. Work Smart:You have limited time and energy."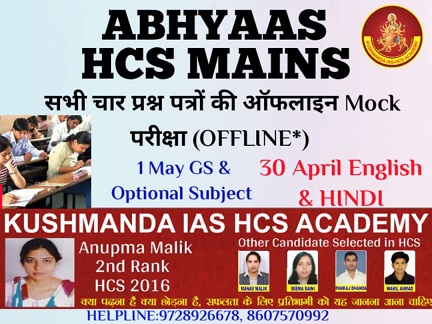 Mock Abhyas 1 : 22nd april & 23rd april (Personalised scheduling)
Mock Abhyas 2 : 29th april & 30th april (Personalised scheduling)
Mock Abhyas 3 : 6th may & 7th may (Personalised scheduling)
Mock Abhyas 4 : 13th may & 14th may (Personalised scheduling)
Mock Abhyas 5 : 20th may & 21st may (Personalised scheduling)
"You should not waste this opportunity for just a sake of only appearing the examination. Give this attempt with the full fire."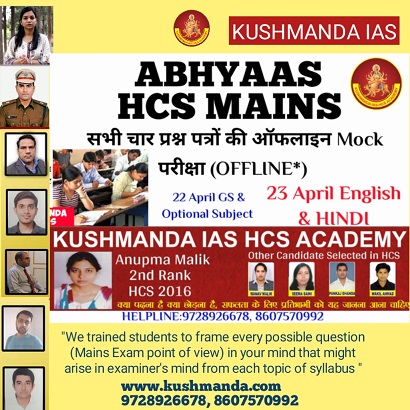 HPSC Mains Exam 2022
 ( Most Expected & Probable Questions Test Series)
 1.GOAL: "All Questions of HPSC Main Exam 2022
 2.REAL SYLLABUS VS APPARENT SYLLABUS
The Test Series will help the candidates in framing out the real syllabus of the HPSC exam.
 3.STANDARD:
"The difficulty level of the test questions will be exactly that of HPSC. It will not be below that. It will not be way above that either, just to impress the candidates. Focus will not be just on testing the factual clarity. The logical standard of the questions will be high, which is the actual pattern of HPSC."
4.SOLUTIONS AND EXPLANATIONS: These will be made available after the completion of the tests.
Fee: 6000/-(Online/Offline) 
"Making good decisions is a crucial skill at every level. You should not waste this opportunity for just a sake of only appearing the examination. Give this attempt with the full fire. So join us immediately."
KUSHMANDA IAS HCS ACADEMY
SCO 301 & 302, TDI TOWN CENTER,  NEAR GT ROAD TOLL PLAZA, TDI CITY
PANIPAT, HARYANA
9728926678 , 8607570992
www.kushmanda.com