HCS Main General Studies Online Course
HCS Main General Studies Online Course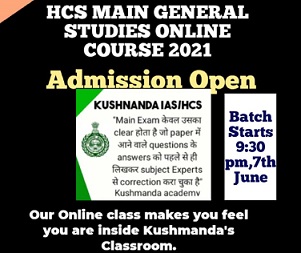 HCS MAIN INTERACTIVE-ONLINE CLASSES :
Makes you feel like you are inside Kushmanda's classroom.
Our Offline and Online classes are conducted in the exact same manner.
Live-online classes are truly 2-way interactive and not pre-recorded lectures.
Module based teaching
Interact with your teachers in exactly the same way as you would do in physical classes.
Backup of online classes will be available for 1 Year
Class Notes will be provided on a regular basis.
QIP Classes: Answer writing classes including tests, discussions and evaluation.
The Test Series (TS) and Quality Improvement Programme (QIP) have been designed for improving candidates' learning outcomes. The main purpose is to help candidates: Evaluate what they have studied. Help them revise and update their knowledge. Overall, augment their preparation towards HPSC exam.
Study  material prepared by teachers, for syllabus of HPSC Mains, will be given in pdf format and hard copies will be sent by post
Fresher to expert: Our courses are designed to help candidate even without a prior background in the subject.
Goal oriented teaching: Detailed-analytical study of the subject with respect to HPSC syllabus .
Assignments and Practice Tests: Periodic assignments and tests will be given to check concept clarity and do revision of the topics covered.
Answer Writing: Test discussions will focus on improving answer writing capability.
Duration: 4.5-5 months
Live-Online classes will be conducted for 1-2 hours, 3-5 days in a week .
Comprehensive- updated study material will be provided to the students (soft copy will be uploaded on www.kushmanda.com and hard copies will be posted).
Class Notes will be provided on a regular basis.
Your teachers will always be available for any doubts and discussions even after the completion of your course.
We encourage all students to stay connected with us and approach us for any assistance they require – doubts & discussion, tests, evaluation & feedback, guidance, etc.
Fee : Rs 20000/-