HCS Main Exam Hindi & Hindi Essay Paper Test Series 2020
HCS Main Exam Hindi & Hindi Essay Paper Test Series 2020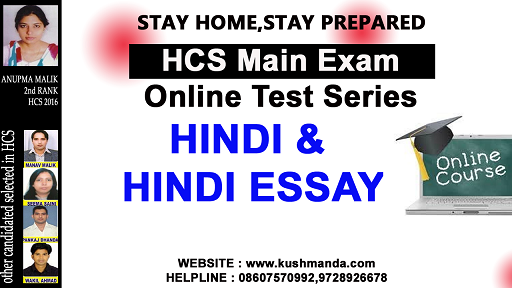 इस वर्ष Haryana Public Service Commission, .HCS-2020 की मुख्य परीक्षा का आयोजन एक पूरी तरह से नए प्रारूप में करने जा रहा है। HCS.-2020 के पाठ्यक्रम को संशोधित किया गया है
HCS MAIN EXAM HINDI & HINDI PAPER 2020 TEST SERIES
TEST I FREE HINDI AND HINDI ESSAY HCS TEST SERIES 2020
जैसा की हम सभी जानते हैं कि सिविल सेवा परीक्षा में 'मुख्य परीक्षा' की भूमिका लगभग 90% होती है, जिसमें लेखन शैली एक अहम् भूमिका निभाती है। परीक्षा की प्रकृति को देखते हुए मुख्य परीक्षा में एक अच्छी उत्तर लेखन शैली बहुत महत्त्वपूर्ण होती है। सिविल सेवा परीक्षा में सफलता प्राप्त करने हेतु मेन्स टेस्ट सीरीज़ सर्वाधिक उपयुक्त माध्यम है क्योंकि इससे परीक्षा में अच्छा प्रदर्शन करने की सही समझ विकसित होती है। चूँकि एक बेहतर लेखन शैली को निरंतर अभ्यास के माध्यम से ही प्राप्त किया जा सकता है
प्रमुखविशेषताएँ
प्रश्न-पत्र में नवीनतम प्रवृत्ति के अनुसार समसामयिक तथा परंपरागत विषयों का उपयुक्त संश्लेषण।
प्रश्न-पत्र का निर्माण स्तरीय पुस्तकों, आधिकारिक साइटों और समाचार-पत्रों के शोध पर आधारित।
समुचित तैयारी के लिये प्रत्येक टेस्ट के मध्य आवश्यक अंतराल।
उत्तर पुस्तिकाओं का मूल्यांकन समर्पित विशेषज्ञ दल के द्वारा।
मोड : मुख्य परीक्षा टेस्ट सीरीज़ ऑफलाइन (क्लासरूम), ऑनलाइन तथा पोस्टल तीनों मोड में उपलब्ध।
माध्यम : हिंदी
                   HINDI AND HINDI ESSAY PAPER
                            (100 MARKS)
संपूर्णपाठ्यक्रम : 15 टेस्ट्स
BATCHES & TIMING
Batch
Timing
Batch 1
9:00 AM – 12:00 PM
Batch 2
12:30 PM – 03:30 PM
Batch 3
4:00 PM – 7:00 PM
Time Table
Date
Timing / Batch
Test
TEST 1APRIL/MAY/JUNE

2020
Personalised Scheduling
[HPSC 44401]

Batch 1 : 09:00 AM – 12:00 PM
Batch 2 : 12:30 PM – 3:30 PM
Batch 3 : 4:00 PM – 7:00 PM
पद्यांश
TEST 2APRIL/MAY/JUNE

2020
Personalised Scheduling
[HPSC 44402]

Batch 1 : 09:00 AM – 12:00 PM
Batch 2 : 12:30 PM – 3:30 PM
Batch 3 : 4:00 PM – 7:00 PM
गद्यांश
TEST 3APRIL/MAY/JUNE

2020
Personalised Scheduling
[HPSC 44403]

Batch 1 : 09:00 AM – 12:00 PM
Batch 2 : 12:30 PM – 3:30 PM
Batch 3 : 4:00 PM – 7:00 PM
हिन्दी में अनुवाद
TEST 4APRIL/MAY/JUNE

2020
Personalised Scheduling
[HPSC 44404]

Batch 1 : 09:00 AM – 12:00 PM
Batch 2 : 12:30 PM – 3:30 PM
Batch 3 : 4:00 PM – 7:00 PM
पत्र
TEST 5APRIL/MAY/JUNE

2020
Personalised Scheduling
[HPSC 44405]

Batch 1 : 09:00 AM – 12:00 PM
Batch 2 : 12:30 PM – 3:30 PM
Batch 3 : 4:00 PM – 7:00 PM
निबंध
TEST 6APRIL/MAY/JUNE

2020
Personalised Scheduling
[HPSC 44406]

Batch 1 : 09:00 AM – 12:00 PM
Batch 2 : 12:30 PM – 3:30 PM
Batch 3 : 4:00 PM – 7:00 PM
व्याकरण
TEST 7APRIL/MAY/JUNE

2020
Personalised Scheduling
[HPSC 44407]

Batch 1 : 09:00 AM – 12:00 PM
Batch 2 : 12:30 PM – 3:30 PM
Batch 3 : 4:00 PM – 7:00 PM
संक्षिप्तीकरण
TEST 8APRIL/MAY/JUNE

2020
Personalised Scheduling
[HPSC 44408]

Batch 1 : 09:00 AM – 12:00 PM
Batch 2 : 12:30 PM – 3:30 PM
Batch 3 : 4:00 PM – 7:00 PM
Hindi & Hindi Essay Paper (संपूर्ण पाठ्यक्रम)
TEST 9APRIL/MAY/JUNE

2020
Personalised Scheduling
[HPSC 44409]

Batch 1 : 09:00 AM – 12:00 PM
Batch 2 : 12:30 PM – 3:30 PM
Batch 3 : 4:00 PM – 7:00 PM
Hindi & Hindi Essay Paper (संपूर्ण पाठ्यक्रम)
TEST 10APRIL/MAY/JUNE

2020
Personalised Scheduling
[HPSC 44410]

Batch 1 : 09:00 AM – 12:00 PM
Batch 2 : 12:30 PM – 3:30 PM
Batch 3 : 4:00 PM – 7:00 PM
Hindi & Hindi Essay Paper (संपूर्ण पाठ्यक्रम)
TEST 11APRIL/MAY/JUNE

2020
Personalised Scheduling
[HPSC 44411]

Batch 1 : 09:00 AM – 12:00 PM
Batch 2 : 12:30 PM – 3:30 PM
Batch 3 : 4:00 PM – 7:00 PM
Hindi & Hindi Essay Paper (संपूर्ण पाठ्यक्रम)
TEST 12APRIL/MAY/JUNE

2020
Personalised Scheduling
[HPSC 44412]

Batch 1 : 09:00 AM – 12:00 PM
Batch 2 : 12:30 PM – 3:30 PM
Batch 3 : 4:00 PM – 7:00 PM
Hindi & Hindi Essay Paper (संपूर्ण पाठ्यक्रम)
TEST 13APRIL/MAY/JUNE

2020
Personalised Scheduling
[HPSC 44413]

Batch 1 : 09:00 AM – 12:00 PM
Batch 2 : 12:30 PM – 3:30 PM
Batch 3 : 4:00 PM – 7:00 PM
Hindi & Hindi Essay Paper (संपूर्ण पाठ्यक्रम)
TEST 14APRIL/MAY/JUNE

2020
Personalised Scheduling
[HPSC 44414]

Batch 1 : 09:00 AM – 12:00 PM
Batch 2 : 12:30 PM – 3:30 PM
Batch 3 : 4:00 PM – 7:00 PM
Hindi & Hindi Essay Paper (संपूर्ण पाठ्यक्रम)
TEST 15APRIL/MAY/JUNE

2020
Personalised Scheduling
[HPSC 44415]

Batch 1 : 09:00 AM – 12:00 PM
Batch 2 : 12:30 PM – 3:30 PM
Batch 3 : 4:00 PM – 7:00 PM
Hindi & Hindi Essay Paper (संपूर्ण पाठ्यक्रम)
To improve your scores in HCS Mains – 2020:
1. Give all tests by preparing well.
2. Revise each test on the same day.
3. Revise all synopses at least 2-3 times before Mains.
4. Give all tests in exam like situation.
5. There are 15 Tests .
6. Nature of Questions: Based on HPSC New Pattern
7. Synopsis will be provided for all tests (pdf).
8. For any test, synopsis will be sent in pdf format after 1-2-3 days (depending on
length of each test)
9. Flexible timings for Classroom & Online Students (Admission Open,PERSONALISED SCHEDULING)
10. Copy correction strictly by faculty only
Fees: Rs. 6000/-
v Why aspirants  do not score well in their Mains Examination?
What    can be the Probable Reason ?
What does an Examiner look in your Answer/Methodology for evaluation of Answer sheet ?
1.Content of the answer:
(a)Proper visibility of idea through facts, data, diagram, figure, illustration according to the requirement of the question:
(b) Originality of thought and expression
2.Language:
(a)Choice of words and proper statement:
(b)Handwriting:
(c) Grammatical correctness of expression:
3.Focus on Key words & Tail words effectively :
Elucidate – Explain, Comment, Examine, Critically examine, Discuss, Analyze, Illustrate, Review, Argue,
Justify etc:
4:Structure :
(a)Introduction :
(b)Ability to compose a well-argued piece of writing:
(c)Ability to express coherently and sequentially:
(d)Conlusion
5. Your Analytical Ability