HCS 2021 Prelims Practice Programme (Most Imp Questions)
HCS 2021 Prelims Practice Programme (Most Imp Questions)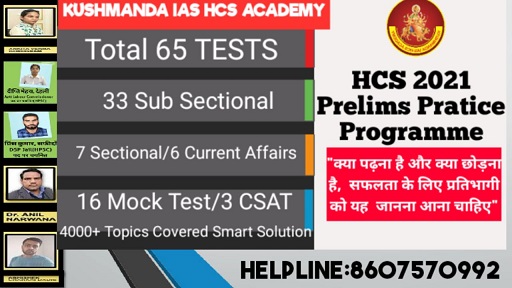 "Exams are fast approaching. Work Smart:You have limited time and energy."
 HPSC Preliminary Exam Test Series 2021
 ( Most Expected & Probable Questions Test Series)
 1.GOAL: "100 Question" of HPSC Preliminary Exam 2021
 2.REAL SYLLABUS VS APPARENT SYLLABUS
The Test Series will help the candidates in framing out the real syllabus of the HPSC exam.
 3.STANDARD:
"The difficulty level of the test questions will be exactly that of HPSC. It will not be below that. It will not be way above that either, just to impress the candidates. Focus will not be just on testing the factual clarity. The logical standard of the questions will be high, which is the actual pattern of HPSC."
4.Once an exam is over, aspirants get detailed solutions and all-Haryana ranks.
Fee: 6000/-(Online/Offline) 
PROGRAMME DURATION: Tests can be taken anytime till 25 June, 2021 (Personalised scheduling), after which the programme subscription will expire.
 SELF STUDY: The Test Series has been conceptualized and designed as a self‐study programme. Its aim is to fit the self‐study schedule of the aspirants who have completed their GS/CSAT preparation.
 FLEXIBILITY: All tests can be taken ONLINE(PDF)/OFFLINE .
Fee has to be paid-by Cash on Delivery or Credit Card or NET BANKING(IMPS/NEFT) or  by DD/Cheque for the full amount favoring KUSHMANDA IAS HCS ACADEMY  payable at PANIPAT . "Trust, quality and reliability , the bywords for KUSHMANDA IAS HCS ACADEMY,  will remain our guiding force for  both Preliminary as well as Main Exam."
 "Making good decisions is a crucial skill at every level. You should not waste this opportunity for just a sake of only appearing the examination. Give this attempt with the full fire. So join us immediately."