CET Haryana | Classroom Environment | Interactive Online Course
CET Haryana | Classroom Environment | Interactive Online Course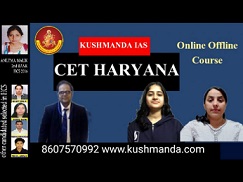 Join our live courses to get the best-in-class experience of classroom learning. Learn and prepare for various HSSC exams such as CET Haryana, Gram Sachiv, Naib Election Tehsildar, Patwari etc.
The live interactive course material will be provided to you after you purchase the Online Classroom Program. Not to forget, the Online Classroom Program for online coaching classes will be taken by the famous subject experts .
Note: Users can purchase Online Classroom Program to access the complete HSSC courses and not an individual course.
Latest Syllabus
Through  live Interactive course for CET Haryana exams, you cover the complete syllabus of Quantitative Aptitude, Reasoning Ability, General Awareness, Haryana , computer, and English section including important questions, latest exam patterns, and fundamental concepts.
Tests Series, Quizzes & PDFs
Get a complete package of Tests Series, Quizzes based on various important topics, and PDF notes for the Haryana hssc exam preparation and analysis of your progress. Take our Online Coaching for hssc exams to boost your conceptual learning.
Current Affairs
Stay updated with the latest Current Affairs, haryana Awareness, and Financial Awareness news etc.
Evaluate Your Preparation
Evaluate your exam preparation and know if it is going in the right direction through our online coaching. Compare your efforts with the level of difficulty of various sections of hssc exams.
Clear Your Doubt
Meet the subject matter experts online and clear your doubts in real-time regarding the various important yet complex topics and subjects. Clear your doubts on a regular basis to stay ahead in the competition.
Haryana CET for HSSC Exams 
Haryana CET for HSSC Exams course is now available at Kushmanda App. With the recent changes made by the government by introducing a single entrance exam at level 1 for all the HSSC exams. The Common Entrance Test (CET) will now replace the Gram sachiv, patwari, Kanungo, election tehsildar etc. exam. Thus, Kushmanda  has also started a new course to help you ace this Haryana CET exam hassle-free.
HSSC Online Classroom Program
"Online Classroom Program" allows you to access all the Gram Sachiv , Patwari,Kanungo, tehsildar etc courses with just one subscription. A wide range of study material and live classes to prepare for any Gram Sachiv , Patwari,Kanungo, tehsildar exams can be accessed easily with the "Online Classroom Program" in order to cut down the need of purchasing various courses separately.
How to enroll for Online Coaching for Haryana CET Exams?
Visit the official App of Kushmanda IAS HCS Academy App
Now go to the 'Courses' section
Select the 'CET Haryana option
Now click on the 'Unlock All Courses' button to purchase the course
Helpline:9728926678
Online Classroom Program Validity 
The validity of your purchased Online Classroom Program will be dependent on the payment plan selected by you while making the payment. The validity of the Online Classroom Program will start to post the day of purchase. For Eg: If you buy a yearly Online Classroom Program on 22nd JAN 2022, it will be available till 21st JAN 2023. You can check your purchased Online Classroom Program validity anytime from the My Purchases section.