HIMACHAL PRADESH ADMINISTRATIVE SERVICES
HIMACHAL PRADESH ADMINISTRATIVE SERVICES ,Candidates are required to apply  only through  Online mode by using the  website www.hp.gov.in/hppsc. No other mode for submission of applications is allowed.
H.P. ADMINISTRATIVE COMBINED COMPETITIVE EXAMINATION 2012, Last date: 04-02-2013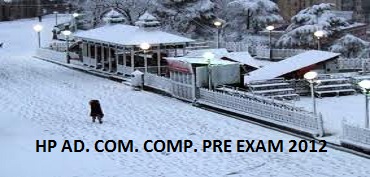 THE DETAILS OF THE POSTS/SERVICES ARE AS UNDER: -
1. Nine vacancies of Himachal Pradesh Administrative Service, Class-I (Gazetted
2. Four vacancies of Himachal Pradesh Police  Service, Class-I (Gazetted)
NOTE:The number of vacancy(s) in the services / posts which relate to the year, 2012 if received from the Govt. upto 30th June, 2013 shall be included for the purpose of selection of candidates on the basis of aforesaid examination.
The Preliminary Examination will be held at the following Centres:  SHIMLA, SOLAN, MANDI, DHARAMSALA, NAHAN, UNA, HAMIRPUR AND CHAMBA.
The centres of holding the examination as mentioned above are liable to be cancelled/  changed at the discretion of the Commission. Every effort will be made by the  Commission to allot the candidates to the centre of their choice for examination,  however, the Commission may, at their discretion allot a different centre to a candidate, when circumstances so warranted.
For more details click this link:
H.P. ADMINISTRATIVE COMBINED COMPETITIVE EXAMINATION 2012